Power supply is inevitable in our daily lives, Majority of Nigerians are faced with outrageous electricity bills monthly.  Here is an alternative energy supply, a solution to solving outrageous electricity bills in Nigeria.  "Solar Power energy" It helps home and business to save, so the key reason that most households convert their power source to solar energy is to cut down their electrical bill because the electrical usage generated from the sunshine is free and it knows no bound. By converting as many home appliances as possible to use solar energy, you can save a significant savings in your utilities expenses since the sun -who is the provider and the energy source doesn't tax anyone.
The cost of Running A Generator is Expensive
Generating alternative energy by converting mechanical to electrical must do with the use of generator filled with fossil fuel that will run out within some hours or a day as one cannot have more than enough fossil fuel. Solar energy is a good alternative to replace fossil fuel as the major energy source because solar power is renewable at absolutely no cost to supply energy infinitely.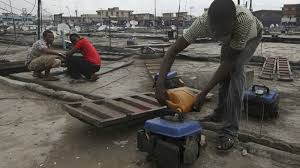 Solar power energy saves from running on generator, it also saves from environmental pollution as Pollution is getting worse on daily basis due to the use of generator and fossil fuel in our societies. Any effort that can reduce the pollution to the environment helps to save the earth and health. Solar panels can harness the energy from the sun and convert it to electricity. Therefore, the use of solar panels is environment friendly. Solar energy that is harmless to the environment will be the major energy source for future – starting today. Imagine if every home has solar panels on their roofs, Most Generators will go on leave, the unbearable noise produced from the oil dripping generator will disappear and life would be more comfortable with everyone.
The truth is, once you have installed the solar power system, it can last twenty to thirty years without major maintenance or repairs needed. If the sun continues to shine, 24hours uninterrupted power supply is certain for 30years.  We can infer that a 30-year-old generator does not exist anywhere. Let's assume there is a 30-year-old generator still running till date, then it means the cost of running that generator would have put in place some many solar power installations considering the cost of fossil fuel and cost of repairs and maintenance that must have gone into running that generator for 30years. You may need to do system check once a year, just to make sure everything is performing as it should. Since it requires very minimum maintenance cost, your cost should be minimal.