A few months ago, I heard off and saw a new device in Nigeria called an Inverter. I was visiting a friend of mine who lived in Gbagada phase 2 and as I was leaving I noticed a battery box and an electronic device in her foyer. I asked her what it was and she told me that it was an Inverter. She bought one to minimize using her generator. The system is plugged into the grid and recharges the battery when there is electricity and then when "NEPA takes light" the inverter takes over.
The definition of an Inverter as per Wikipedia. " inverter, is an electronic device or circuitry that changes direct current (DC) to alternating current (AC)".
So what you have is a device that takes the juice from your battery which is DC and converts it to AC. AC is what most electronic devices use.
Here is a picture of one such device.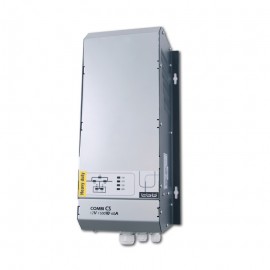 When you add batteries to it, it becomes a battery back up or UPS. UPS does not stand for United Parcel Service. It means uninterruptible power supply. You have it in your offices or in your data rooms at work. I have a couple in my house for my desk tops.
A UPS or battery back up has an Inverter and battery inside the box. The bigger the box the higher the capacity. The battery determines how long the plugged in device can stay active. If you have used one of these, they start to beep after 30 minutes to tell you to shut off your devices safely.
Our Nigerian business people have coined a term that people can buy and relate too. An Inverter which is a fancy name for a battery back up system.
What are the benefits of a traditional battery back up?
It is what it says it is. It is back up power. When the power fails it will power your home devices till power is restored. What if power does not come back one within the operating window of the battery back up or Inverter? Pray or use your generator to charge it. This has worked in places like Lagos or Abuja where you get power daily. For people who live in states that don't see power for extended periods of time, an Inverter or battery back up will not meet the needs of the household or business.
There you have it. Inverter Nigerian style 101.
We will discuss alternatives in our next post and also highlight products that we sell. I hope this was informative and helped you get closer to making a decision about alternatives to gas or diesel generators.