This has been a recurring question that I get each time I talk about our Solar Power Solutions. I will attempt to answer it again.
No Changes In How You Use Electricity
Solar electricity works exactly the same as the electricity you buy from the utility company. You turn on lights, plug in lamps and power appliances the same way you do right now. In fact, if you didn't see solar modules on the roof, you'd never notice any difference—except a lower electric bill.
While the science of converting sunshine into electricity is complex, the idea is pretty simple. Solar electricity is generated by a group of solar modules called an array that's installed on your roof or in your yard. When sunlight falls on the solar modules, a DC electrical current is created instantly. The DC electricity is fed into an inverter that changes it to standard AC electricity – the same kind your home already uses. No need to change your home wiring.

Solar Power Is Highly Reliable
Solar electricity has been in use for more than 50 years and is proven to be highly dependable. Unlike other methods used to generate electricity, solar doesn't rely on moving parts that can wear out. Some modules come with a 25-year limited warranty on power output, and some modules installed in the 1950's are still performing.
Little Maintenance Is Required
Occasionally, a solar array should be rinsed off with a hose to clear the dust or debris that blocks sunlight and reduces efficiency. The batteries also need periodic visual inspection. If they are traditional flooded batteries, they need to be topped up with distilled water once a month.That's about all that's required.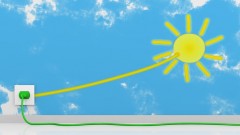 Two weeks ago during one of my many visits, I met another person that has experienced Solar Power first hand in the east. He had gone to visit a friend who lives in the East and he noticed that the lights were on and there was an absolute absence of noise. After a while he asked him how he was able to produce electricity with no noise. And the man said the magic word. Solar Power. He had imported a home solar system and it was meeting all his needs.
How much Solar Power do I need?
Solar Power is not intended as a one to one replacement for grid power. But with intelligent use and energy efficient appliances you can live a comfortable life style without giving up a lot. Dane Wigington built a 4200 square foot house in a location he liked but had no access to the grid. The estimate to connect him to the grid was over $85000.00. He did the best thing he could that was build a Solar based systems. His two biggest cost were the solar panels and batteries. He purchased 5100 watts in panels and 2400 AH in batteries. Here is a list of things he runs daily or at least a few times a week. A 3 HP Well pump,Fridge, Freezer, Surveillance System, Lighting, Dishwasher, Welder, Central Alarm system, Central Vacuum, Clothes Washer, House Pump, 2 Computers, Steam Bath, Answering machine, DVD player, Home stereo, clocks, Satellite Decoder, Clothes dryer and Copy machine. In the summer for cooling he runs 2 Swamp Coolers and a Well Pump to water his trees. In the summer months he consumes about 23412 WH/ Day. Which is more than most homes consume in the US. Even with all the loads connected, in the summer he uses less that 30% of his batteries.
Our Systems are designed with the Nigerian consumer in mind. Rugged with a lot of extra cooling built into the charges. We have extra large transformers to handle the peak loads and the periodic overload that the system will be subject to. It automatically detects when the power (grid) is off and turns itself on. If you need more information call us at +1 973-200-8397 x 121  or +234 1 4041003 x 121 or email us at info@atlanticwastepower.com